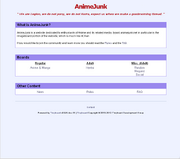 AnimeJunk website is a now defunct project of the AnimeJunk Steamgroup to create a spinoff site of Funnyjunk dedicated to anime, using Imageboard/4Chan website software.
A couple of different websites were created, one by
Darkinin
and another by
Steamy
. Neither website is online anymore.
Ironman had owned one of the urls, but Darkinin bought it off of him for the registration price.