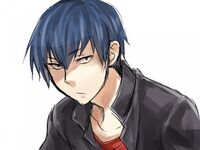 Hailing from the random board, Dragontaming has only recently gotten interested in anime, with his favorite being Toradora. His waifu is also in Toradora, Kushieda Minori.
PersonalityEdit
He acts sadistic, but can be really caring at times.
Relations with other anime board users
Edit
He is friends with Trainerredd and Mattmuch, often fooling around with the latter.
He has a strong relationship with his waifu, Lazyboyo.
Anime he has watched
Edit
Dragontaming has watched Toradora, Kaichou wa Maid-sama, Sora no Otoshimono, and Ryuusei no Rockman Tribe. Death Note is next on his list to watch.